Computer Case for Mini ITX (Y701)
Trader

South Korea
Product Detail
Information
Introduction
Starting from Europe, ITX market share is believed to grow little by little in the world PC market. At this point, Intel continues to release high performance ITX main boards, receiving very good customer feedback. Focusing on this market, we have developed ITX since 3 years ago.
Features
Slim, Small & Powerful
Slim and competitive mini-ITX main board
0.8mm EGI steel to be more effective in electric magnetic wave control and duration
Push to open type and lateral ports USB 2pcs
It uses a new SSD or 2.5HDD 2pcs
Front width 53mm Ultra Slim Design
Glossy design
Highly luxuries Chrome-plated bezel
Noise and heat is minimized DC to DC
HTPC composition can be optimized

Easy to customize HTPC composition using Y701 to suits your needs
- Y701 + Mini ITX main-board (The use of a CPU cooler of 35mm or less is recommended when an ITX board is used instead of an Atom board
- DC to DC + Adapter
- Either 2.5 HDD or SSD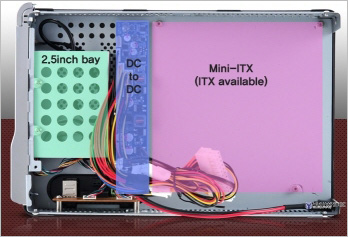 Mini-ITX / ITX main board mountable, DC to DC board mountable
- A powerful system is possible as it can accommodate a Mini-ITX main board and a DC to DC board.
It is compact but expandable
- Although it is designed for the Atom board, any ITX board can be embedded along with a CPU cooler (35mm or below). The DC board minimizes heat production
Installation of main board
- The distance between the cave and the main board is designed to lesson heat conduction.
Connector
- Front-side layout of power supply, the connector for the HDD LED as well as the connector for USB 2.0 and HD audio found on the front-side terminal are provided.
Components
- Screws and power cables necessary for the assembly are provided at default.
Specification
Product
ITX Case
Material
Inside : 0.8mm EGI Steel
Outside : Chrome-plated bezel
Mainboard specification
Mini-ITX
Power Specification
DC to DC / Adaptor
Drive bay
2.5 inch x 2
Front-side terminal
USB 2.0 x 2, MIC, HD Audio
Dimensions
53 x 310 x 210(mm)
Weight
1.4kg
Accessories
Case, Stand, screws, user manual