Computer Case (Y702, Y705)
Trader

South Korea
Product Detail
Information
Introduction
Starting from Europe, ITX market share is believed to grow little by little in the world PC market. At this point, Intel continues to release high performance ITX main boards, receiving very good customer feedback. Focusing on this market, we have developed ITX since 3 years ago.

Features
Slim yet compact ITX Mainboard
Small-sized yet high-performance ITX Power
Push to open/close ; two front-side USB Ports
All desirable functions are compacted Slim ODD
New SSD installable 2.5/3.5 inch bay
Luxurious design High-glossy front-surface coating

Slim ODD
- The ITX case comfortably allows for a slim ODD device and thus maximizes diversity despite its slim size.
The I/O port is designed at the bottom
- At the bottom, two USB ports along with sound and mike ports are arranged to make easy and convenient connections to USB devices and a headset.
Feet Stand
- The case comes with a rubber-finished foot stand for a safe and stable standing installation.
50mm Air hole
- The 50mm air ole design at the bottom of the case provides an effective means to remove the internal heat.
Installation of mainboard
- A distance of 8mm is intentionally kept between case and mainboard to effect reduction in thermal conductivity.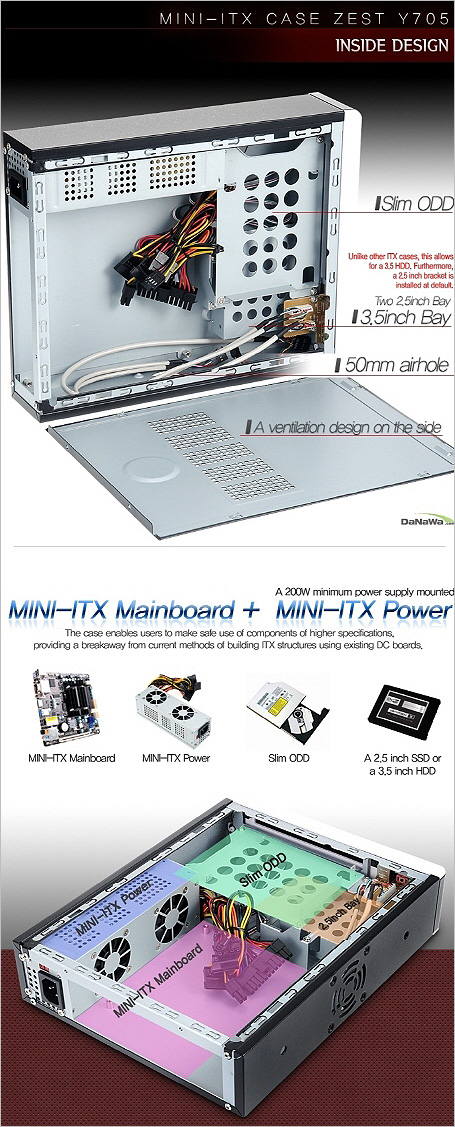 Accessory
Connector
- Front-side layout of power supply; the connectors for the HDD LED as well as the connectors for USB 2.0 and HD audio found on the front-side terminal are provided
Components
- A case and a power supply together with screws and power cables necessary for the assembly are provided at default.
Specification
| | |
| --- | --- |
| Product | Mini-ITX Case |
| Material | 0.8mm EGI Steel |
| Mainboard specification | Mini-ITX |
| Power Specification | Mini-ITX |
| Drive bay | 3.5 inch x 1 or 2.5 inch x 2 |
| Front-side terminal | USB 2.0 x 2, MIC, HD Audio |
| Dimensions | 65 x 308 x 240 (mm) |
| Weight | 2.7kg |
| Accessories | Stand, power cable, screws, user manual |